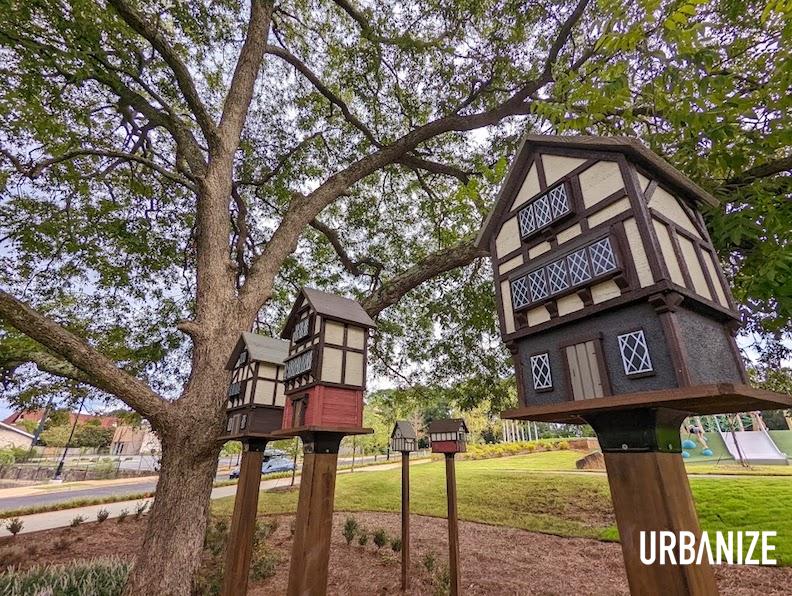 Three cheers for Avondale Estates' new Town Green
DeKalb County city was recently shortlisted as one of America's "top family friendly cities and towns"
Like Vine City's Cook Park and Westside Park last year, another multifunctional ITP greenspace has debuted on what used to be underused if not empty land, albeit on the flipside of town.
After five years of planning and construction, Avondale Estates permanently removed fencing last month around its Town Green project, allowing access to open greenspace, a performance area, a playground, dog park, and other components along the DeKalb County city's main traffic corridor.
Located just east of Avondale Estates' recognizable, Tudor-style downtown, the roughly two-acre Town Green replaced parking lots, idle land, and low-rise buildings. It's the first phase of what city leaders envision as a new mixed-use hub that links downtown to the city's burgeoning brewery district.
In June, Avondale's Downtown Development Authority approved three MOUs, or memoranda of understanding, pertaining to mixed-use developments that would be built around the new park. All three proposals remain in concept phases and are undergoing due diligence, according to the city.
Those facets include: an 80-key boutique hotel with ground-floor retail and a rooftop bar or restaurant. Eleven live-work townhomes (up to 3,000 square feet each) that would wrap a new 185-space parking deck. And a two-story Town Green Market Development fronting the main road, with a mix of retail, offices, and restaurants overlooking the park.
On a related note, Avondale Estates was shortlisted this week on Opendoor's rundown of the top 15 family friendly towns and cities across the U.S., earning the No. 15 spot behind Mission, Kansas. (Cambridge, Massachusetts took first place in the rankings, which weighed criteria such as "academic excellence," "the great outdoors," and "small-town feel.")
"We found that most family friendly cities like Avondale Estates have quite a few common features—whether that's a small-town feel or plenty of outdoor spaces to explore," wrote Opendoor's consumer trend expert, Beatrice de Jong. "Homebuyers considering Avondale Estates can expect a charming small town with lots of restaurants, coffee shops, parks, and playgrounds."
Head to the gallery for a look at what the buzz is about—and a preview of how subsequent phases could transform spaces around the new park.