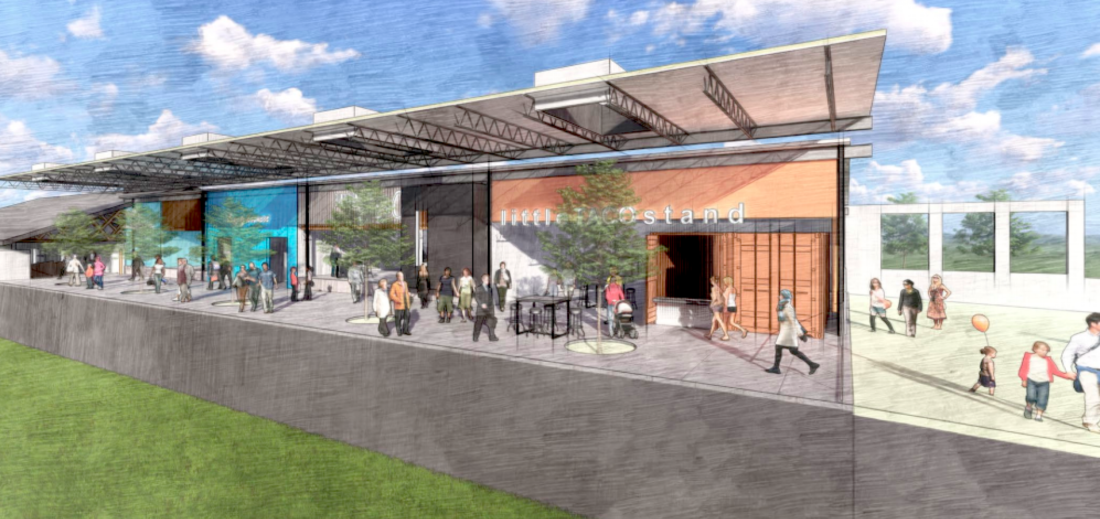 In Avondale Estates' growing food, drink district, next project barreling ahead
Construction and tenant signings have ramped up at Olive & Pine, ITP Atlanta's latest food hall
The investment group behind mixed-use, adaptive-reuse Olive and Pine in Avondale Estates says the project is nearly 70 percent leased and should start turning spaces over to tenants in coming weeks.
The $5.5-million project will encompass 25,000 square feet, most of that a food hall, in a tucked-away section of Avondale Estates that's gained national attention as a growing, walkable brewery district.
After breaking ground in May, the 100 Pine Street project is reimagining the Mann Mechanical Building, a low-rise industrial facility off East College Avenue where mechanical systems were engineered for more than 50 years. The property is within a couple blocks of three Avondale Estates breweries: Wild Heaven, Lost Druid, and the newest entrant, Little Cottage.
It's a joint venture between Tin Drum Asian Kitchen founder Steven Chan, Decatur-based Office of Design architecture firm, and Metro Green Construction.
Steven Chan, a trained architect with a background in development, initiated the idea for Olive and Pine and thought the former industrial site off East College Avenue/North Avondale Road would be the ideal place for it.
Chan tells Urbanize Atlanta that between 65 and 70 percent of the building is leased, with most of the smaller spaces claimed around what's known as the project's Grand Hall.
According to Chan, signings so far include a coffee shop; sandwich shop and bakery Leftie Lee's; a mini-mart with vending machines and slushies; a Los Angeles-based burger joint; a cocktail bar; a coworking space and art gallery hybrid; and potentially an in-house plant shop. Project partners Office of Design will be leasing part of a larger space for the firm's offices.
Chan expects to announce specific names of all tenants soon.
"We just continue to execute," Chan said. "We're targeting turning spaces over to tenants in mid-October."
The permitting process and buildouts prior to business openings, however, could take several months.
"I wish I could say businesses will be open in February," Chan said, "but I'm not sure."
Earlier this year, USA Today 10 Best Reader's Choice Awards anointed "charming" Avondale Estates the country's best small-town beer scene.
Beyond the brewers, attractions in surrounding blocks include Little Tree Art Studios (across the street from Olive and Pine), My Parents' Basement, Pine Street Market, and The Beer Growler & Pint Haus.
The city implemented an Open Container Entertainment District in June that stretches from Sam's Crossing near Decatur to Avondale Estates' Tudor-style downtown. That allows visitors to carry specially marked, 12-ounce, plastic cups of booze throughout the district.
Roughly three blocks east of the Olive and Pine project, Avondale Estates is also building a new four-acre town green that's scheduled to open in early 2022.
Franklin Street, which borders the mixed-use project and will connect with the new greenspace, will be transformed by the city via enhanced landscaping and lighting to create a grander, more walkable boulevard feel, Chan said.
"The idea is that Olive & Pine will become the sort of commercial, retail, and restaurant hub [for that corridor], with the entire grid being open-container," said Chan.