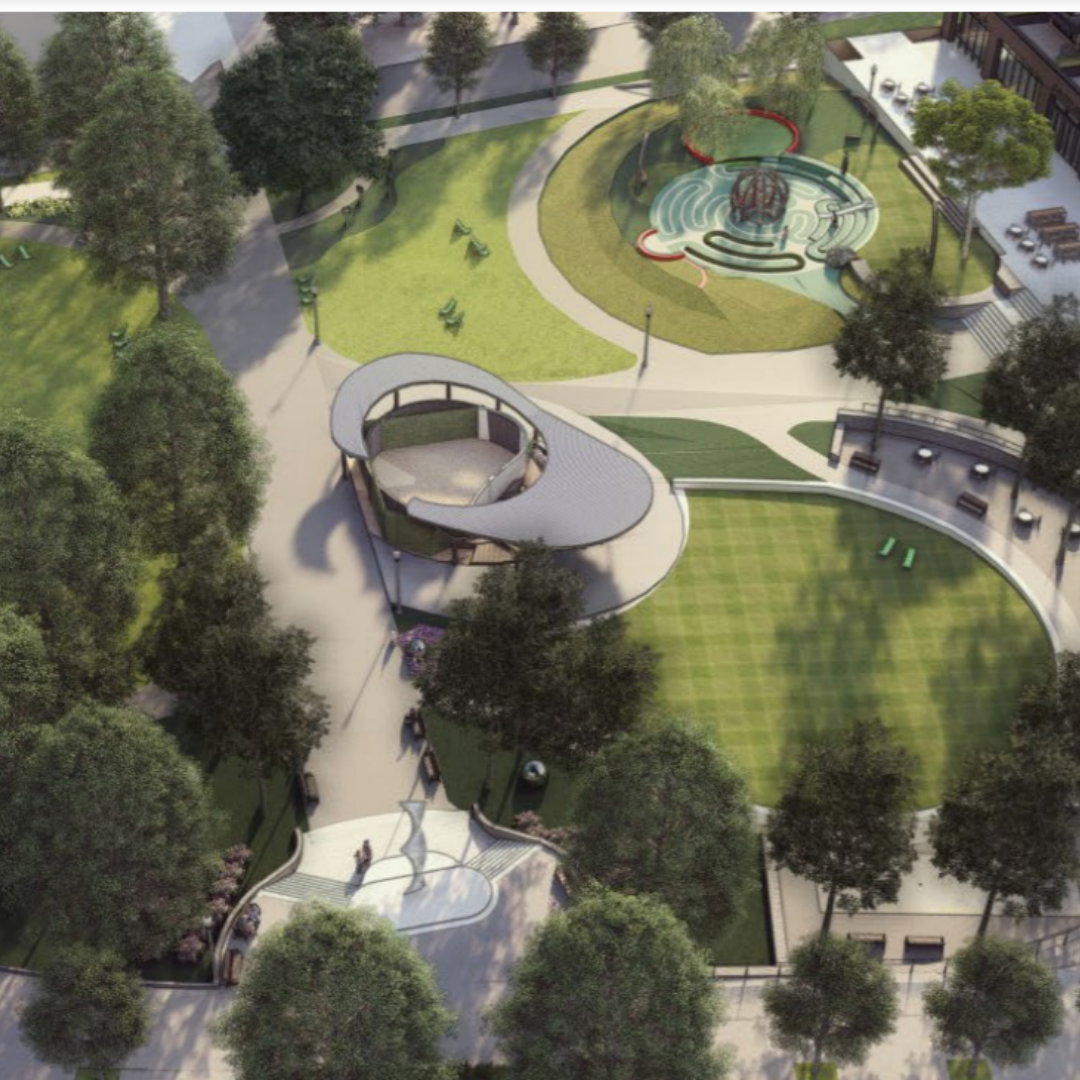 Why Avondale Estates' New Town Green is Important
Later this year, our city will break ground on a Town Green in the Commercial Business District (CBD).   This Town Green is a strategically important and positive investment in our city's future.
When did this project happen and where did it come from?
Several years ago, the city's leaders had the wisdom and forethought to purchase four acres of land in the CBD, roughly bordered by E. College on the South, Oak Street on the West, Lake Street on the East and Washington and Perry Streets on the North.   Basically, this tract is the old Credit Union building and the Art Lot, and the property behind them.
In 2018 the city launched an open, public process to determine the best use of this land, including a broad solicitation for drawings and plans.     'Entry number nine', created by AE neighbor Sheri Locke was the consensus favorite that was picked through this open process, and it included using roughly half of these four acres for a green space, and the other half as a retail/commercial development to activate this park.
The city's leaders followed the required, prerequisite steps to make this vision a reality, including financial analyses and securing bond financing.   After much time and effort towards all of these activities, a groundbreaking on construction of this Town Green is a reality in the near future.
Ok, great – we're building a park in the downtown; but why does this matter to AE's residents?
There are many reasons why we will all benefit from this park, including a significant move towards the walkable downtown stipulated in our Downtown Master Plan (DMP), which was developed based on community input and called for a public park.   This Town Green will provide additional green space for our families to enjoy and a great location for local events and festivals. However, the most critical and fundamental reason that this Town Green development is important is that it is a financial investment in the residents' future.
For many years, over 90% of the tax burden in our city has been carried by the residential community.  Meanwhile, the CBD remained largely underdeveloped or underused and therefore, contributed very little to the tax base.  This unbalanced tax digest is simply not sustainable for the residents.  A best practice (and our City's target) balance between a residential and commercial tax base would be 50/50 split, but even a commercial base approaching 25% takes on some of the burden and allows for a higher quality of life for everyone.
Now I'm interested – but confused.   The city is taking out a bond to pay for a Town Green in the CBD and it is going to HELP the residential tax burden in the future??  Please tell me more.
Building a quality Town Green upgrades the use and increases the value of all surrounding areas.   Richard Dagenhart (https://arch.gatech.edu/people/richard-dagenhart) is a well-regarded expert in the area of city planning and economic development, who spoke to the city's leaders and residents in an open meeting.   His analogy to property around a Town Green is 'Ocean Front Property' and he talked about the many positive economic impacts of such a development – most notably the economic activation of the surrounding area.    This Town Green is actually a financial investment that will increase the property value in the downtown area and improve/optimize its usage.
Are there specifics that support this position?
We are moving in the right direction. In 2018 roughly 91.5% of the assessed property value in Avondale Estates was residential, and the remaining 8.5% of assessed value was commercial/industrial (almost all of this figure was commercial – we have very little industrial).  With the addition of the Willis apartment development, commercial assessed values began to increase and in 2020 the residential assessed property value was down to 80.4% and the commercial/industrial component had risen to 19.6%. The Town Green will accelerate this favorable trend, which is positive for the residents.
This idea is starting to make sense – can you please sum it all up for me?
The tax digest is like any portfolio – diversification is good.    In recent years Avondale Estates tax digest was far too heavily unbalanced on the residential side.     The attention and investments the city is making in our downtown – most notably this Town Green – are 'balancing' our tax digest and will ultimately allow the city to provide better residential services to its residents.
As a general rule the cost per assessed value to the city (services it has to provide) is lower for commercial properties than for residential ones.  In Avondale Estates, every dollar paid by a commercial taxpayer requires roughly 35-65 cents of city service.    Alternatively, residential taxpayers typical require between $1.15 and $1.50 of city service for every tax dollar paid.    As a result, increasing the ratio of commercial taxes paid not only balances the digest, but provides more services that can be allocated to our residents.
There are many exciting, new developments in our downtown – new businesses like The Lost Druid, Little Cottage Brewing and Olive & Pine; to name a few.    The US 278 traffic-calming and Complete Street project will not only create a real 'main street' for Avondale Estates, but it will make pedestrian access from the residential side into the downtown area safer and much more pleasant.  The additions of the Willis and Alexan apartments in our Western Gateway not only followed the guidelines of our Downtown Master Plan but are also bringing much needed commercial traffic and support to our local businesses.    The hard work done by the city to develop a street grid plan and commercial rezoning for the CBD is making our downtown far more attractive and viable for the kinds of new businesses we all want to attract.
While we are excited that commercial and retail developers are becoming more interested in our downtown, we cannot depend on them for the important objective of 'Placemaking', which is our responsibility.  The Town Green is a major step towards this 'Placemaking' goal for our CBD.
All of these exciting changes will not only provide a more pleasant and viable downtown to be enjoyed by our residents – they will significantly increase the corresponding commercial property values, and therefore diversify and balance our tax digest.
---
The AE DDA is a 7-member board committed to the redevelopment and revitalization of the downtown business district.   Other Directors include local Leigh Lynch, Vice Chair; Walter Barineau, Stacia Familio-Hopek, Jennifer Joyner, Lisa Shortell and Tom Trocheck.
Written by Dave Deiters, Chair of the Avondale Estates Downtown Development Authority (DDA)